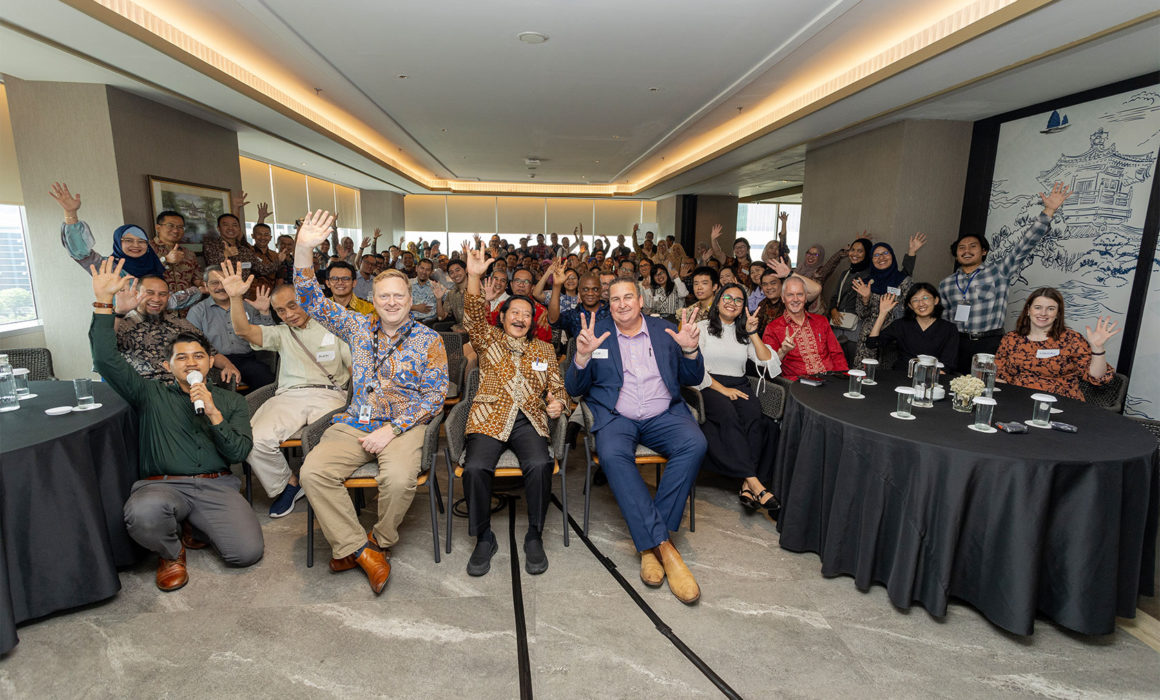 The Australia Awards in Indonesia hosted a networking lunch on 1 November 2023, bringing together participants from two Australia Awards Short Courses: The Grains Value Chain Leadership Program and Standards and Halal Certification. (Australia Awards Indonesia)
In the News
Tune In
Indonesian vocal group GAC performed for the first time in Sydney. This is what they say about it. (SBS Indonesian).
Many Indonesian farmers stopped cultivating rice, and switched to other crops. The reason is, because there is no policy support in favour of this commodity. This might challenge Indonesian food security in the future. (SBS Indonesian)
In her new book, 'Systemic Silencing: Activism, Memory and Sexual Violence in Indonesia', Talking Indonesia podcast, co-hosted by Dr Jemma Purdey from Monash University, Lis Kramer from UNSW, Tito Ambyo from RMIT and Dr Jacqui Baker from Murdoch University, takes a close look at the system itself and seeks to understand it in the context of Indonesia's own colonial and post-colonial history, with Kate McGregor, professor of Southeast Asian history in the School of Historical and Philosophical Studies at the University of Melbourne. (Podcast Talking Indonesia)
Events
JOIN AIYA ON DISCORD! AIYA would like to cordially invite you to join our Discord, an online group-chatting platform. We will be using Discord a digital hub for AIYA activities including:

Games nights – AIYA will be hosting casual and impromptu gatherings on Discord
Ngobrol santai – any AIYA member can join and chat with other members whenever you want.

Join AIYA ACT's weekly Gamelan classes every Monday, 6-8pm, in the ANU School of Music, Room 680!
Indonesia Australia Business Council is holding a Conference 2023 from 7 Nov 2023 8:45 am – 9 Nov 2023 5:00 pm AWST / GMT+8 at Grand Hyatt Jakarta, Indonesia. Register here.
Australia Global Alumni in Indonesia, in partnership with the University of Queensland (UQ), is excited to present the dynamic panel discussion on "Digital Transformation in Indonesia's Development Agenda" as part of our celebrations for the 70th anniversary of Australian scholarships in Indonesia. Please secure your spot by registering before Monday, 13 November, using this link.
AASYP and AIYA is presenting a webinar "Introduction to Australia🇦🇺" on 25 Nov 2023, 3:00 – 4:30 PM Jakarta Time. Register here and get insights from us!
NAILA's People Choice award voting is now open! The candidates have submitted the funniest and wittiest clips. Now it's our time to decide the winner! Vote here.
AIYA NAILA is inviting us to celebrate 'Awards Night Ceremony' on 2 Dec at Glebe Town Hall. Register here and enjoy traditional Indonesian performances, Indonesian food and watch our talented winner's speeches!
Opportunities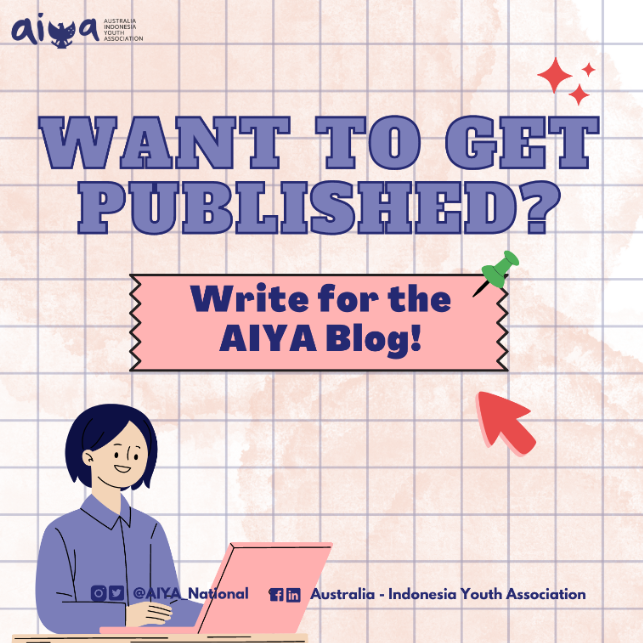 AIYA Blog accepts open and roll submissions from Indonesians and Australians about anything to do with the bilateral relationship?

Share with us your story of any study exchange or working holiday in Australia, fun facts about Bahasa Indonesia or English, review a book, a movie, a TV show or another piece of media related to Indonesian or Australian culture, policy and law developments between the two countries that you want to explore with an engaged audience of AIYA Blog readers.
Maybe you have an idea but you're not sure how to write it? You can also pitch ideas to our blog editors and they will workshop your article with you!
Please email your submission to [email protected] and one of our amazing editors will work with you to get your work published on the AIYA Blog.
Submissions are open in both English and Bahasa Indonesia.

Australian Volunteers is temporarily suspending overseas placements but are continuing to support partner organisations through remote volunteering. If you're interested in volunteering in-country then check-out a range of opportunities here.
DFAT has established the Emerging Markets Impact Investment Fund (EMIIF) which seeks to support development ideas across the Indo-Pacific region. If you have a bright development idea consider applying for support here.
KIAT (Kemitraan Indonesia Australia untuk Infrastruktur) is looking for a professional to fill in the position of Finance Officer. Applications are now open and will close on 19 November 2023. Apply your application here.
Good Return is seeking for a part-time job to fill in the position of Chief Development Director. Suitable for someone who available to work remotely. Apply your application here as soon as possible. Applications will be reviewed continually.
Good Return is seeking for an Indonesia Program Coordinator. Suitable for someone who excels at forming partnerships and is interested in building the financial wellbeing and capability of people in Indonesia. Apply as soon as possible here as applications will be reviewed continually.
Inside Indonesia is looking for a reliable volunteer to help with uploading a few articles to the website every couple of weeks. Please send your interest to

[email protected]

International Internship is receiving applications for Environmental Internship Indonesia. The program is composed of a structured four-week internship with host organisations in Indonesia. NCP funding is available. Submit your applications by 7 Nov here.
KATALIS – Do you have a great Indonesia-Australia business development idea that needs connecting and support? Submit your ideas to Katalis through its business portal here. Proposals can be submitted all year.
KIAT (Kemitraan Indonesia Australia untuk Infrastruktur) is opening various employment opportunities and current tenders. Find out here. KIAT works with its government partners across Indonesia to deliver a range of large and small projects to improve access to infrastructure for all Indonesians.
The Australian Government is receiving applications for the Working Holiday Maker program that allows young adults to have a 12 month holiday, during which they can undertake short-term work and study. More info here.
The Australian Trade and Investment Commission (Austrade) helps grow Australia's prosperity by delivering quality trade and investment services to businesses, accelerates growth in Australia's tourism sector and promotes Australia's education to the world. Find more available vacancies information here.
The Australian National University is offering various course about Indonesia and Australia bilateral relationship. Check if any course availability by demand. More info here.
The Jakarta Bintangs is an Australian Football Club with membership open to anyone, begfinners are most welcome. The club organises games throughout the year, mostly in Jakarta, with occasional games across Indonesia and overseas. Tours are planned to Bali, Batam, Vietnam and Thailand this year. Training is mostly held at Lapangan Bola Aldiron in Jakarta on Saturday or Sunday afternoons. On occasion, training sessions are also held Thursday nights in the GBK complex. To keep up to date with the training schedule follow them on Instagram @jakartabintangs, or contact Han on 081119337855. For more information click here
Like what we do? Want to join or support your local chapter to contribute to our exciting activities? Sign up as an AIYA member today!